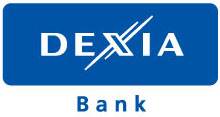 Dexia, the bank for sustainable development.
When your money is safe everything is too.
Dexia N.V./S.A., also referred to as the Dexia Group, was a Franco-Belgian financial institution active in public finance, providing retail and commercial banking services to individuals and SMEs, asset management, and insurance; with headquarters in Saint-Josse-ten-Noode, Brussels.