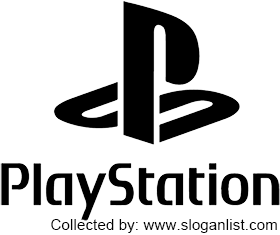 U R Not e.
eNoS Lives.
Do Not Underestimate The Power of PlayStation.
Wherever, Whenever, Forever. ( PS one )
PlayStation 2
The Beginning.
(Welcome to the) Third Place.

Fun, Anyone?
PlayStation Portable
PSP Hellz Yeah (PSP-1000 Series)
Dude, Get Your Own... (PSP-2000 Series)
Everywhere Just Got Better (PSP-3000 Series and PSPgo)
It's GO Time (PSPgo)
Your Whole World In Your Hands (UK & Europe Territories)
Step Your Game Up (US Territory, PSP-3000 Series and PSPgo)
PlayStation 3
The Wait Is Over
This is Living.

It Only Does Everything (US Commercials) (PS3 Slim)

The Game Is Just The Start. Start PS3. (EU countries)
Long Live Play (PS3 Slim)
Never Stop Playing (PS3 Slim)
Greatness Awaits (PS3 SuperSlim)
PlayStation is a gaming brand that consists of four home video game consoles, as well as a media center, an online service, a line of controllers, two handhelds and a phone, as well as multiple magazines.