Digital distribution U.S.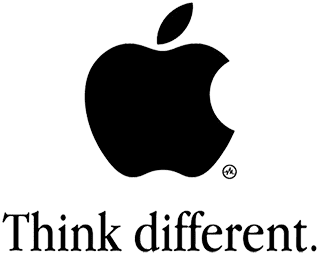 Company advertising campaigns
Byte into an Apple. (Late 1970s)
Simplicity is the Ultimate Sophistication. (Late 1970s/1980s)
Soon there will be 2 kinds of people. Those who use computers, and those who use Apples. (Early 1980s)
The Computer for the rest of us. (1984)
The Power to Be Your Best. (1990)
Think different. (1997–2002)
iPhone
The internet in your pocket.
Touching is believing
iPhone Apple reinvents the phone
Say Hello to iPhone
Talk about big. iPhone now in 16GB. More music. More video. More iPhone. (2008)
The iPhone you've been waiting for. (2008)
There's an app for that. That's the iPhone. Solving life's dilemma one app at a time. (2008)
The first phone to beat the iPhone. (2008)
Twice as fast, for half the price (2008)
The most advanced mobile OS. Now even more advanced. (2009)
25,000 apps. And counting. (2009)
The fastest, most powerful iPhone yet. (2009)
There's An App For Everything (2010)
More to love, less to pay (2010)
This changes everything. Again. (2010)
Things go better with an apple (2011)
If you don't have an iPhone, well, you don't have an iPhone.
The world's thinnest smartphone.
Finally.
It's the most amazing iPhone yet. (2011)
It's not just bigger. It's just right.
The biggest thing to happen to iPhone since iPhone
Loving it is easy. That's why so many people do.
For the colorful. (2013)
Forward thinking. (2013)
Progress is a beautiful thing. (2013)
Bigger than bigger. (2014)
Apple I
Apple introduces the first low cost microcomputer system with a video terminal and 8 kilobytes (KB) of RAM on a single PC card!
Apple II
le II
What every educator should know about desk-top computers.
The home computer that's ready to work, play and grow with you.
A is for Apple.
How to buy a Personal Computer.
Welcome IBM. Seriously.
What kind of man owns his own computer?
Baked Apple.
Why Apple II is the world's best selling personal computer.
Apple: The Personal Computer.
Apple Pay
Your wallet. Without the wallet. (2014 used to promote the new Apple Pay.)
Macintosh
It takes minutes of practice to make Macintosh do this.
Introducing Macintosh.
Why 1984 won't be like...'1984'.
The computer for the rest of us.
Introducing Macintosh. What makes it tick. And talk.
Of the 235 million people in America, only a fraction can use a computer... Introducing Macintosh. For the rest of us.
It does more, It costs less. It's that simple.
Macintosh-the computer for the rest of us.
Apple Inc. is an American multinational technology company, that designs, develops, and sells consumer electronics, computer software, and online services.