Morrisons – Morrisons Makes It.
Kenco – Growing great coffee and more.
Vigroids – for clarity of voice
Durex – Made to make you last longer.
McVitie's – Whole wheat at its heart
Sage Group – Your business in mind.
Cadbury Dairy Milk – Free the joy.
Rolls-Royce Motor Cars – Like nothing else on earth.
Um Bongo – The great flavour of the jungle
Terry's – Round. But not round for long.
Chicken Tonight – I feel like Chicken Tonight.
Marks & Spencer – Only at Your M&S
P&O Ferries – You deserve a holiday.
WHSmith – Lose yourself in a book.
Blackwell's – For learning. For life.
Dulux – Let's colour.
Bentley – The silent sports car
Dunlop Tyres – Feel the road.
Vodafone – Make the most of now.
Castrol – liquid engineering.
Sainsbury's – Live Well For Less.
K (cider) – The Mark of Quality
BBC – Nation Shall Speak Peace Unto Nation.
Land Rover – Go Beyond.
Tesco – Every Little Helps.
Virgin Atlantic – No ordinary airline.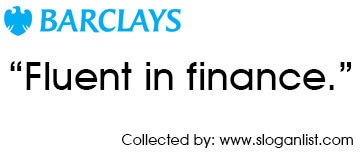 Jet2 – Friendly Low Fares.
Colman's – Come on Colman's, light my fire.
Tate & Lyle – Consistently First in Renewable Ingredients
Barclays – Fluent in finance.
Aviva – Forward Thinking
TVPlayer – What Are You Watching?
Dettol – Keep the memories, but not the bacteria
BP – Beyond Petroleum
Capital Disney – Your Music, Your Way
Halfords – We go the extra mile
Ariel Motor Company – The surge of power is relentless
Avon – The company for women.
Bremont – Tested Beyond Endurance
Argos – It's So Easy
NatWest Bank – Helpful Banking.
British Airways – The red-eye has been replaced by the shut-eye.
Bisto – Aah, Bisto!
Ambrosia – Devon knows how they make it so creamy
Brylcreem – A little dab'll do ya!
Lux – Not Just Soap Its Skin Care
Jack Wills – University Outfitters.
Lloyds Bank – You first.