Merck & Co. – Where patients come first.
Fischertechnik – Building blocks for life
Bosch – Invented for life.
Wera Tools – Wera. Tools. From ideas.
Haribo – Child and adult is happy.
Trix (cereal) – Trix Are For Kids!
Siemens – We can do that.
Ritter Sport – Quality in a Square.
Bayer Aspirin – Bayer works wonders.
Audi – Vorsprung durch Technik.
NIVEA – More evolved skincare.
Continental tire – The future in motion.
Apollo Tyres – Go the distance.
Opel – The Future is Everyone.
BMW – The Ultimate Driving Machine.
SAP SE – Have fun with SAP.
HypoVereinsbank – You live. We'll take care of the details.
Mercedes-Benz – The best or nothing.
Toffifee – It's too good for the kids
Stihl – Not just for professionals.
Porsche – There is No Substitute.
Severin Elektro – welcome home.
Knipex – The think tank.
Lufthansa – Say yes to the world.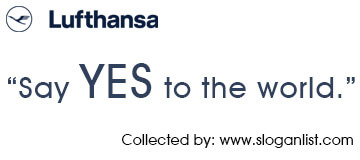 Aral AG – Alles super
E.ON – Your energy shapes the future
AEG – it's a philosophy
A. Lange & Söhne – State-of-the-art Tradition.
Heckler & Koch – No Compromises!
Fielmann AG – My daddy didn't have to pay a cent himself!
Hatz – The challenger
Aldi – Spend a little, live a lot
Knorr – More taste in your life
Tchibo – Passionate about coffee.
Rowenta – Enjoy Technology
T-Mobile – Stick Together
HB – A filter cigarette that tastes good.
Maxdata – Real hard ware.
WMF Group – Designed for performance. Made for a lifetime
Neff GmbH – all around heat is more.
Melitta – Coffee indulgence.
Commerzbank – Ideas ahead.
Deutsche Bank – A passion to Perform.
Air Berlin – Your Airline
Osram Sylvania – OSRAM Bright as daylight
TUI Group – Discover your smile