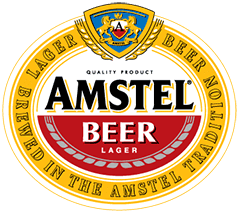 Amstel. Our beer.
Taste life. Pure Filtered.
Celebrate football.
( Note: Amstel - sponsor of the UEFA Champions League 1994 - 2004 )
Amstel light
Live tastefully.
Open minds open Amstel.
The beer drinker's light beer.
The world's perfect light beer.
Could be the world's best tasting light beer.
Amstel Brewery is a Dutch brewery founded in 1870 on the Mauritskade in Amsterdam, Netherlands.