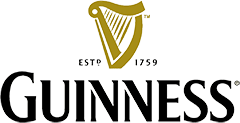 Guinness is Good for You.
Guinnless isn't good for you.
Out of the darkness comes light.
Good things come to those who wait.
Guinness refreshes your spirit. ( USA campaign )
Believe ( UK campaign )
The most natural thing in the world. ( in Ireland )
It's got to be Guinness. ( in Singapore )
Now enjoy Guinness anywhere. ( Australian campaign )
Guinness is an Irish dry stout that originated in the brewery of Arthur Guinness at St. James's Gate, Dublin, Ireland, in 1759.