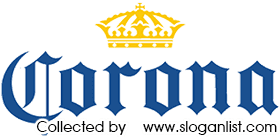 Beer time
Where is your beach
A refreshing slice of life
Corona island – the place to be
Every bubble's passed its fizzical.
Corona. Miles Away From ordinary.
Corona Extra
This is living.
The place to be.
Find your beach.
The ultimate party beer.
Corona Extra is a pale lager produced by Cervecería Modelo in Mexico for domestic distribution and export to all other countries besides the United States, and by Constellation Brands in Mexico for export to the United States.