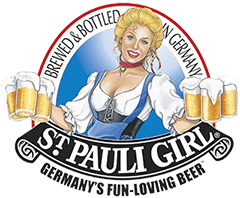 Germany's Fun-Loving Beer.
St. Pauli Girl. The original Party Girl.
You never forget your first girl.
Put her on a pedestal, or a coaster ( USA campaign )
St. Pauli Girl beers are brewed and bottled by the St. Pauli Brauerei, which is located within the Beck's brewery in Bremen, Germany.