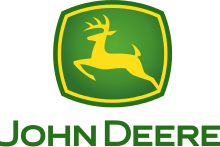 Push back
Watch for it
Technology that pays.
The future is here today
Reliability is our strength.
Nothing runs like a Deere.
We have upgraded. Now it is your turn
John Deere is the brand name of Deere & Company, an American corporation that manufactures agricultural, construction, and forestry machinery, diesel engines, drivetrains (axles, transmissions, gearboxes) used in heavy equipment, and lawn care equipment.