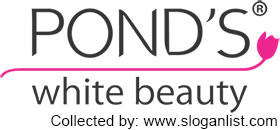 Trust in a classic.
Only Ponds has it.
The miracle is you
Your face deserves it.
Bring your skin back alive.
Ponds, for timeless beauty
where your real age vanishes
For skin like peaches and cream.
Simply beautiful skin since 1846.
Pond's is a brand of beauty and health care products, currently owned by parent company the multinational corporation Unilever.