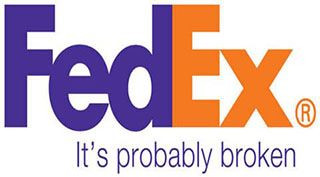 So fast and easy, even an MBA can do it.
When it Absolutely, Positively has to be there overnight. (1978–1983)
It's not Just a Package, It's Your Business. (1987–1988)
Our Most Important Package is Yours. (1991–1994)
Absolutely, Positively Anytime. (1995)
The Way the World Works. (1996–1998)
Be Absolutely Sure. (1998–2000)
This is a Job for FedEx. (2001–2002)
Don't worry, there's a FedEx for that. (2002–2003)
Relax, it's FedEx. (2004–2008)
The World On Time. (2001–present)
We Understand. (2009–present)
We Live To Deliver. (2009–present)
FedEx Corporation is an American multinational courier delivery services company headquartered in Memphis, Tennessee.