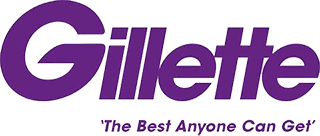 The Best a Man Can Get.
We're just going to keep adding more blades.
Look sharp, feel sharp.
Never let 'em see you sweat.
The Best Disposable Razor You Ever Threw Away. ( Gillette Sensor 3 )
Reveal the goddess in you. ( Gillette for Women )
Gillette is a brand of men's and women's safety razors and other personal care products including shaving supplies, owned by the multi-national corporation Procter & Gamble (P&G).