- Casual dining - U.S. -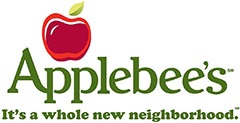 Eatin' Good in the Neighborhood.
See you tomorrow.
Together is good.
Get it together, baby!
It's a whole new neighborhood.
There's no place like the neighborhood.
Applebee's is an American company which develops, franchises, and operates the Applebee's Neighborhood Grill + Bar restaurant chain.