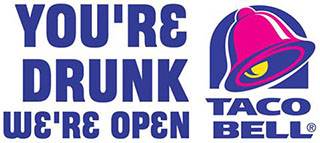 Think outside the bun.
Head for the Border.
Grande taste. Loco value.
Make a run for the border.
Fourth Meal.
Why Pay More!?
It's just made for you.
Yo Quiero Taco Bell. ( I Want Taco Bell in English )
Live Mas. ( means live more )
Taco Bell is an American chain of fast food restaurants based out of Irvine, California and a subsidiary of Yum! Brands, Inc.