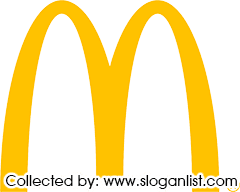 i'm lovin' it.
Food, Folks and Fun.
Good time, Great taste.
We love to see you smile.
You deserve a break today.
What you want is what you get.
Have you had your break today?
Did somebody say McDonald's?
There's a little McDonald's, in everyone.
Brrr.Mmmm. ( McDonalds iced coffee )
McDonald's is an American fast food company, founded in 1940 as a restaurant operated by Richard and Maurice McDonald, in San Bernardino, California, United States.