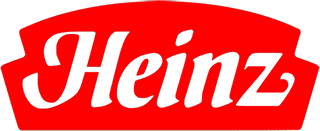 57 Varieties.
Heinz. Good Food Every Day.
The best things come to those who wait.
Beanz Meanz Heinz.
Heinz Tomato Ketchup
You can't eat without it. (UK campaign)
A good meal out deserves a great ketchup. Insist on Heinz. (USA)
Heinz Kick'rs ketchup
Caution: ketchup has kick.
The H. J. Heinz Company, better known simply as Heinz, is an American food processing company based in Pittsburgh, Pennsylvania.