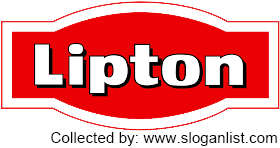 Be more tea.
The brisk tea.
Drink positive.
Lipton. Tea can do that.
Drink better - live better.
Don't knock it 'til you've tried it!
Direct from the tea gardens to the teapot.
Lipton's gets into more hot water than anything.
Lipton White Tea
The rarest of China's rare teas.
Lipton Green Tea
Start something good.
Taste good, feel good.
Lipton Flavored Teas
Iced tea bursting with zesty flavor.
A burst of zesty flavor in every sip.
Lipton Ice Tea
Drink positive.
Ice tea can do that.
Lipton is a British brand of tea, owned by Unilever.
Quick Info
Product type: Tea
Introduced: 1890