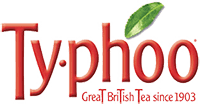 Surprisingly tasty.
Get your morning
Two-thumbs fresh.
The No.1 selling decaf.
Typhoo. Join the tea-set.
The better way to wake up.
Typhoo puts the T in Britain.
Get back your "oo" with Typhoo.
You Only Get an 'OO' With Typhoo.
Not just making tea - Making history.
When you've lost your 'OO' get it back with Typhoo.
Typhoo is a brand of tea in the United Kingdom. It was launched in 1903 by John Sumner Jr. of Birmingham, England.