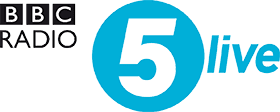 On digital, BBC Sounds, smart speaker and online, this is BBC Radio 5 Live
Live news. Live sport.
The World Cup Station
The Olympic Station
First for breaking news, and the best live sport
BBC Radio 5 Live (also known as just 5 Live) is the BBC's national radio service that broadcasts mainly news, sport, discussion, interviews and phone-ins.