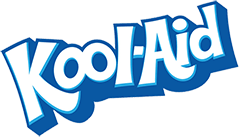 Sugar-Water
Bring back the fun.
Stir up some smiles.
Drinking the Kool-Aid
Delivering more smiles per gallon.
You loved it as a kid. You trust it as a mother.
Kool-Aid Jammers
Only your tongue will tell.
You've never tasted a green like this before.
Kool-Aid is an American brand of flavored drink mix owned by Kraft Heinz.