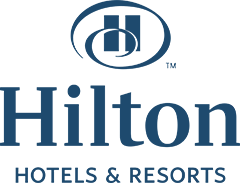 Travel should take you places.
Take me to the Hilton.
America's business address.
We invite you to try it. ( Hilton Dusseldorf )
Stay in your groove. ( Homewood Suites by Hilton )
Life's better at the Garden. ( Hilton Garden Inn )
Hilton Hotels & Resorts (formerly known as Hilton Hotels) is a global brand of full-service hotels and resorts and the flagship brand of Hilton.