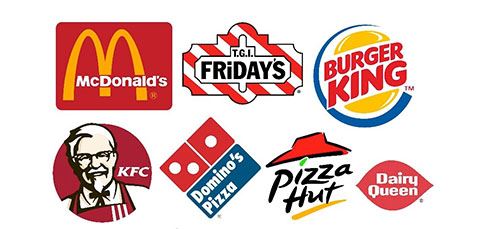 Subway - Eat fresh.
McDonald's - I'm Lovin' it.
White Castle - What you Crave.
Burger King - Have it your way.
Buffalo Wild Wings - You have to be here.
Hungry Jack's - The burgers are better.
Little Caesars - Hot-N-Ready.
Dairy Queen - Fan food, not fast food.
Dunkin' Donuts - America runs on Dunkin'
Carl's Jr. - Eat like you mean it.
Arby's - We have the meats.
Jollibee - Dito sa Jollibee Beeda ang sarap!
Wingstop - Dine in or carry out.
KFC - It's finger lickin' good!
Sonic Drive In - Service with the speed of sound.
Taco Bell - Live Mas.
Tim Hortons - Always fresh.
Wendy's - Now that's better.
Long John Silver's - Throw boring overboard.
Whataburger - Just like you like it.